I visited the vicinity of Swan Creek Reservoir again, this time by way of the Rock Hopper Trail.  This is an awesome trail that starts off Route 518, wends through the DEP lands to the north west of 518, goes right by the reservoir, and then hooks off toward Rock Road.
You can read all about the Rock Hopper over at NJ Trails:
http://njtrails.org/trail/rockhopper-trail/
I highly recommend the hike, it's around 4 miles round trip (if you don't take a short cut like I did), and has highly varied terrain.  Many hikes get a little monotonous over time.  Not this one – it changes every few hundred yards.  You'll see lots of very old hand quarried stone quarries, old stone walls, varying slopes and trees, a whole lot of amphibians and a small stone bridge that's still standing.
The draw for those concerned about PennEast is that Rock Hopper goes right near the ridge where PennEast's preferred route is proposed near the Reservoir.  And this is all open land, so you can explore at will.

Here's a Map My Run snapshot of the trail.
Here is near where the trail comes out into the power line cut. The pipeline is not going into the cut – it will be fully within the trees to right of this picture. So imagine this cut doubling in size.
Here is a view of the reservoir itself.
And the dam:
That damn is only 122 yards from the centerline of the pipeline. In an area where bedrock is right at the surface, so they'll have to blast down to 7′-9′ to actually install the pipe.
As mentioned the construction will not be within the cut, but to the West of it instead. This is unfortunate not only because of the tree cover that will be cut down to the dirt, but also because it is going down the side of the slope instead of just straight down. This makes erosion issues far worse than they would otherwise be. So once again, imagine all those trees on the left of this picture being taken out for the pipeline cut in addition to what's already been taken for the power lines.
To really bring home the fact that none of this is "co-location", but is in fact a massive widening of the right of way, I went into the woods and showed my GPS relation to the pipeline, and then snapped a picture of that spot. Here's one:
And here's what's at that location:
As you can see, that's not co-located. That's a green field route through old growth trees. The tree pictured above, along with countless others, will be taken out by construction.
This little mini dam is in the same spot. I'm guessing this was man made going back well beyond 50 years. It won't exist if PennEast is built. How are they going to mitigate this exactly?
Here is another spot on top of the center line. It shows the impacts to the creek and surroundings.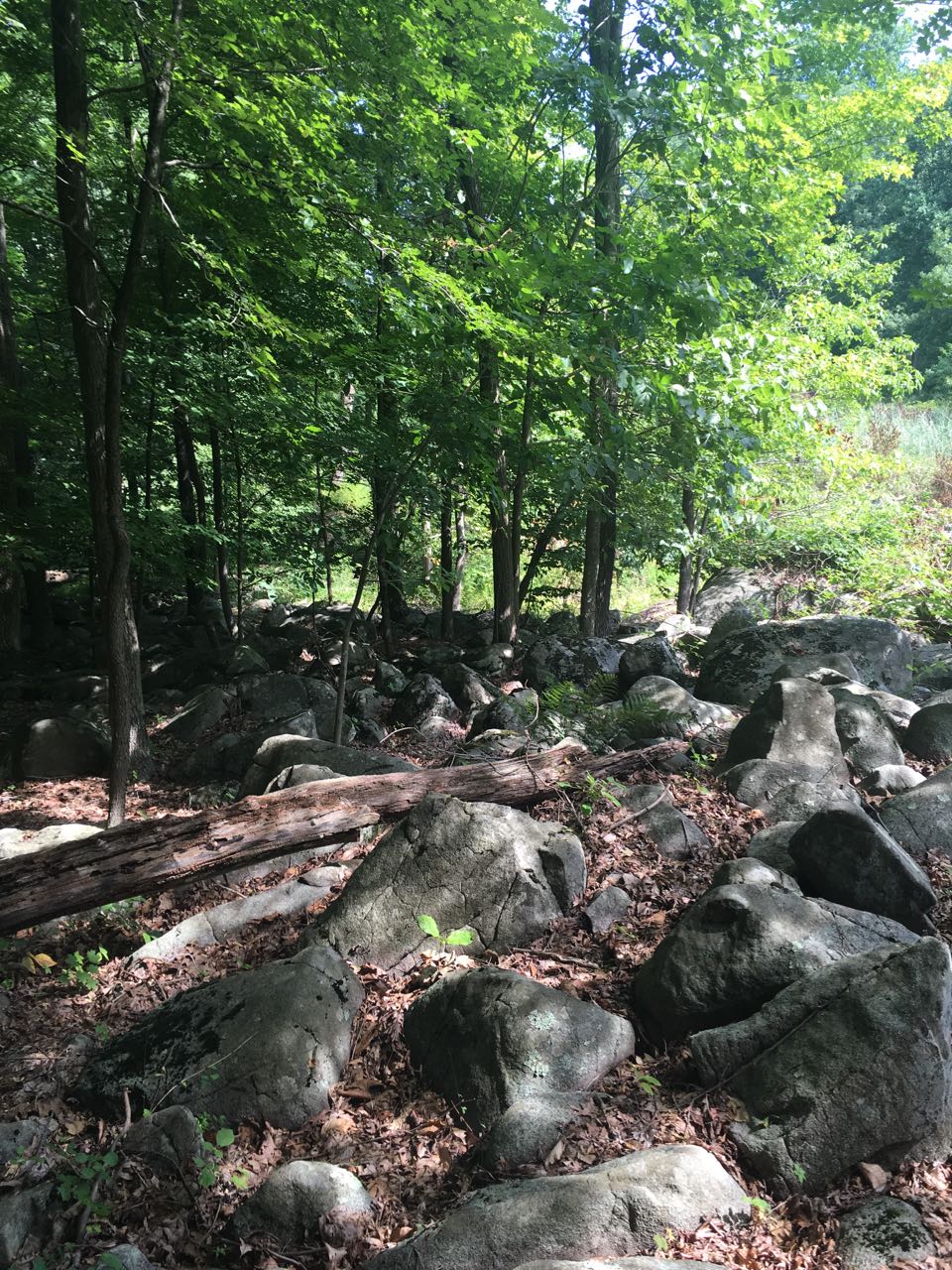 And lest you think they might get away with plain old digging in this area, here's what the creek bed looks like. Yeah, that's diabase bedrock. No way they're getting through this without blasting.