Yet another large interstate pipeline blew in April 2016.  As with several other recent events, this blast was not due to construction activity or anyone digging near the pipeline. It was yet another case of corrosion eating through the pipeline and having the pipe itself ultimately fail.
The Pittsburgh Post-Gazette has some graphic pictures of the scene.


The explosion was to a 30″ Texas Eastern line (Texas Eastern's owner, Spectra Energy, is a 10% owner in PennEast). It sent a man to the hospital with severe burns, burned down homes, and even melted a road.
First responders cordoned off a 1/4 mile zone around the breach and evacuated over a dozen homes from the area.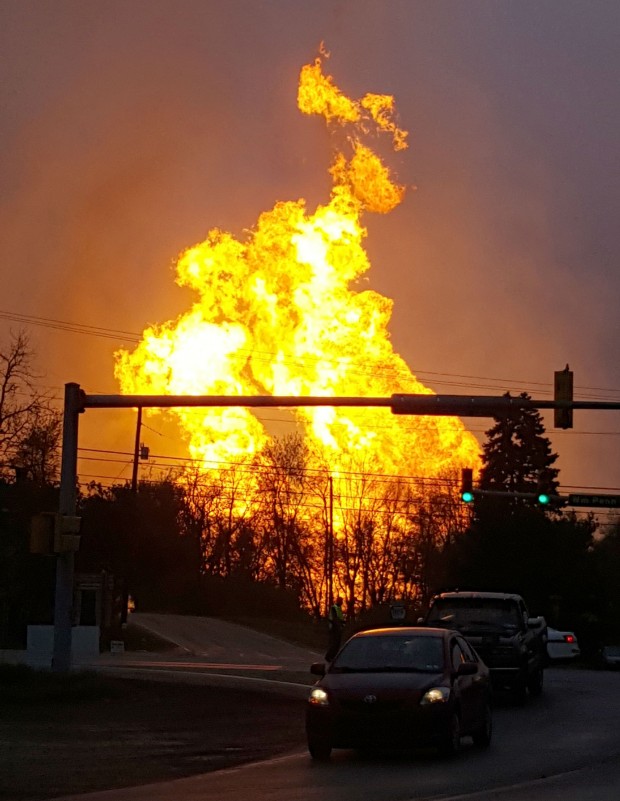 The pipeline was last inspected by Texas Eastern in 2012, when they found no areas that required any repairs or remediation. But when PIMSA (the agency in charge of pipeline safety) did a post mortem on the blown pipe, they found two areas that were significantly corroded near the breach.
A contributing factor may have been the fact that a compressor station feeding the pipeline was updated in 2014 to pump more gas through the line.
Did FERC approval of Delmont Compressor station contribute to blast?
The natural gas plume from the breach was so huge that weather forecasters mistook the methane discharge for a storm event coming into the region, stretching over 22 miles long.
For reference, the PennEast route is proposed to go within just a few dozen feet of many homes (including my own), and is only about 122 yards from several schools in the region – far less than the 1/4 mile evacuation zone. In addition, this pipeline was only 30″. The PennEast pipeline is 36″ and thus would have a far greater impact if breached (remember we are talking volumes here, so a 6″ greater radius is much bigger than it sounds).
If you want to learn how to help stop these projects, please visit the link below: